Jun 19, 2018
|
Jobs & Employment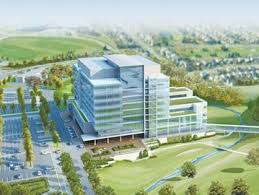 By 2031 York Region will add more than 500,000 people to our communities and a further 250,000 jobs. Imagine a new city of 500,000 people without government offices or space from which to support the services and programs that the public require.
There is no question that with rapid growth must come some level of investment in additional space for the hundreds of programs the Region delivers. The fact is that we are currently leasing out approximately 100,000 square feet of space throughout Newmarket and York Region to support past growth. Furthermore the Region also owns 70,000 square feet of space that is past its useful life and must be replaced sold or repurposed as well. York Region Council has been moving forward for over 3 years on the need to build a new office building for York Region Employees. The 20 members of Regional Council have unanimously supported the new Regional Annex building not only due to growth but due to the KPMG audit that demonstrated that between 26 and 60 million would be saved over the next 30 years as a result of owning over leasing. Leasing is not a long term strategy when you have the ability to own. I suspect that is why most people prefer to own their own homes instead of renting. Yes, we will have to invest over 200 million dollars in this asset but the amount of money we are spending on our current and future leases will offset the debenture payments we will make on the new building. At the end of 30 years there will be no more lease payments and we will own an asset worth much more than 200 million. This is a business decision – a sound business decision.
The need to expand Regional Government space was not taken lightly – we know that people prefer to see investments in roads or policing (and we have been doing that!). It would have been the politically easy thing to do to defer this project and say we voted against "government waste" but that would have been short sighted politics when what is needed is long term leadership.
The truth is that with Regional Council's unanimous agreement that we must invest in a new Regional Building the Mayor and I knew we needed to make sure it happened here in Newmarket. This building represents 1100-1500 high quality jobs – now and in the future. It also represents hundreds of spin off jobs and it represents millions of dollars annually to the restaurants and businesses who benefit from spending by Regional employees in our community. It also represents the beginning of the renewal and redevelopment of our Yonge and Davis corridors. Let me put it simply – this is a big win for Newmarket! Fortunately, our colleagues on Regional Council also recognized that there are operational efficiencies from locating the expansion next to the existing headquarters and on existing regionally owned land.
Newmarket is, and will now remain, the seat of Regional Government – in fact it is one of the pillars of our Town's Economic Development Strategy, a pillar I advocated for. There were many people who questioned the investment in the original Regional building but today all but a few recognize what an economic driver it has been for our town. Also, keep in mind that this is a Regionally funded project so about 8% of the cost is born by Newmarket Taxpayers but we get the lions share of the economic benefit.
It would have been easy to vote against 'government spending' in an election year – but real leadership demands that we stand up and promote economic development and the reduced long term cost of owning our own Regional offices here in Newmarket. I truly believe we must continue investing in and building one of the greatest communities in Canada. This can't be done by always looking for ways to do less….we need to seize opportunities when they arise to be a growing, vibrant and developing community – a community with a strong future.